Event
KW 35 – Kassel Week of Museums: Action Day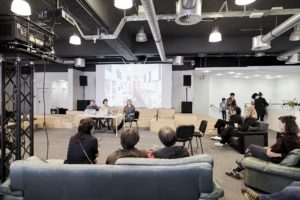 On the occasion of KW 35 – Kassel Week of Museums from September 2 to 5, 2021, ruruHaus opens its doors and becomes a platform for local initiatives, collectives, scientists and artists. The venue will come to life through various events, including lectures, talks, music and radio broadcasts. During the four days, everybody is warmly invited to participate and jointly fill the "living room" of documenta fifteen with exciting encounters. The former department store offers space for lively exchange and serves as an experimental field for collaborations.
Participating initiatives and associations:
Saturday, September 4, 2021: Action Day
Opening hours: 3–10 pm
ruruHaus: Open Haus with a varied program of events
Schedule
3–10 pm
The Rapid Publisher: Participatory publishing
Throughout the day, the collective The Rapid Publisher invites everybody to an open workshop, where visitors can produce their own publications using a photocopier. The event is accompanied by DJ sets by Radio Rasclat, Lost & Found Records and others.
Music:
3 pm: Dario Fiege
4 pm: MarSoe
5 pm: Viva los Amigos
6 pm: Wolti
7 pm: DJ Effizijenz b2b Duun
8 pm: DJ Effizijenz b2b Duun
9 pm: Friedrich (Lost & Found Records Kassel)
10 pm: Ease Up George
11 pm: DJ State and Friends
Opening hours
Thursday, September 2, 2021 : 3–8 pm
Friday/Saturday, September 3/4, 2021: 3–10 pm
Sunday, September 5, 2021: 11 am–3 pm
COVID-19 notice
Access to ruruHaus is possible only with proof of recovery, vaccination or current negative test, which is not older than 24 hours (3G rule).
The event takes place under consideration of currently valid hygiene guidelines. There is an obligation to cover the mouth and nose in the entire indoor area. The data of the visitors will be recorded in order to trace a possible chain of infection. The data protection regulation applies.
Languages
The program is held in English and German, many other languages are spoken and all languages are welcome.