KW 35 – Kassel Week of Museums: Screening Day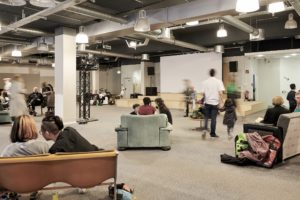 On the occasion of KW 35 – Kassel Week of Museums from September 2 to 5, 2021, ruruHaus opens its doors and becomes a platform for local initiatives, collectives, scientists and artists. The venue will come to life through various events, including lectures, talks, music and radio broadcasts. During the four days, everybody is warmly invited to participate and jointly fill the "living room" of documenta fifteen with exciting encounters. The former department store offers space for lively exchange and serves as an experimental field for collaborations.
Participating initiatives and associations:
Friday, September 3, 2021: Screening Day
Opening hours 3–10 pm
Schedule
3–10 pm
ruruHaus: Open Haus with a diverse program of talks and screenings such as various short films on the artist Joseph Beuys presented by the documenta forum throughout the day.
5–6 pm
Rotopol Press: Comic Book Reading
The Kassel-based publishing house Rotopol Press hosts a comic book reading.
6–7 pm
Rotopol Press: Screening
The Kassel-based publishing house Rotopol Press screens animated short films together with the film collective Sticky Frames.
7–9 pm
Blind Spots in the Sun: Panel Discussion
Blind Spots in the Sun hosts a panel discussion on colonial history and anti-black racism in Germany with the following participants:
Mo Asumang is a film director, television presenter, best-selling author, actress, singer, artist and film producer. She shows her documentaries in schools and gives lectures on racism and xenophobia. In 2019, she received the Order of Merit of the Federal Republic of Germany for her work.
Princess Marilyn Duala Manga Bell is an economist and curator. She is the great-granddaughter of Rudolf Duala Manga Bell and co-founder of the art space doual'art in Duala, Cameroon. For her services to international cultural exchange, she will receive the official 2021 Medal of Honor of the Federal Republic of Germany from the Goethe-Institute.
Henrik Langsdorf works in the fields of public art, video installation and design. His video installation Ville Fantôme/Kinshasa La Belle was shown at the Congo Biennale in Kinshasa and at LICHTinstallationen auf den Weinbergterrassen at the Weinberg in Kassel. He is the initiator of Blind Spots in the Sun.

Emilene Wopana Mudimu is a social pedagogue, educator, moderator and spoken word artist from Aachen. As a political activist, she works with Black people and PoC on empowerment and lectures on anti-racism training and creative writing. She has worked for the Konrad-Adenauer-Stiftung, DGB, and Theater Oberhausen. Furthermore, she runs "KingzCorner" in Aachen, a socio-cultural center that provides support for young people with migration background.
Host:
Anne Chebu works as a journalist and television presenter for ARD, BR, NDR, SWR, and HR, among others. In 2014, her book Anleitung zum Schwarz sein (How to be Black) was published, in which she combines practical advice for everyday life with an overview of Afro-German history.
9–10 pm
Radio Rasclat: Screening
The non-profit community radio Radio Rasclat shows a film from their portfolio.
Opening hours
Thursday, September 2, 2021 : 3–8 pm
Friday/Saturday, September 3/4, 2021: 3–10 pm
Sunday, September 5, 2021: 11 am–3 pm
COVID-19 notice
Access to ruruHaus is possible only with proof of recovery, vaccination or current negative test, which is not older than 24 hours (3G rule).
The event takes place under consideration of currently valid hygiene guidelines. There is an obligation to cover the mouth and nose in the entire indoor area. The data of the visitors will be recorded in order to trace a possible chain of infection. The data protection regulation applies.
Languages
The program is held in English and German, many other languages are spoken and all languages are welcome.