Event
FUSSBALLABALLA: Semi Final 1
by ZK/U – Center for Art and Urbanistics
Location: Streetbolzer e.V. Nordstadt-Stadion Struthbachweg 3 34127 Kassel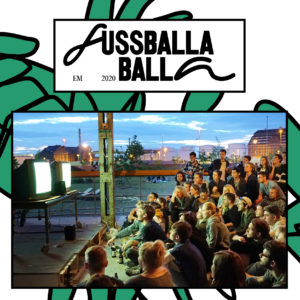 From July 2–11, 2021, ZK/U in Exile organizes FUSSBALLABALLA, a program around the postponed European Football Championship 2020. As a non-commercial public screening format for the neighborhood, FUSSBALLABALLA shows football matches in alternative settings in Kassel, accompanied by a critical and discursive program before, during, and after the matches. Apart from the fun of the game, FUSSBALLABALLA screens films and hosts conversations and performances questioning the idea of how groups find their face and space within dominant narratives of the football world.
As lumbung member of documenta fifteen, ZK/U – Zentrum für Kunst und Urbanistik is moving its activities to Kassel during the expansion of its Berlin space. FUSSBALLABALLA takes place in collaboration with documenta fifteen and Kassel initiatives Dynamo Windrad e.V. and Streetbolzer e.V.
What color to wear
The constellation of the national teams tells a story of the recent and more distant history of the participating countries. Most national teams consist of players from at least three or four different cultural and ethnic backgrounds. Who plays for which country is sometimes a matter of historical fate, offers, chance or sense of belonging, but it is also an expression of the progressive accumulation of the transfer trade of talent in the soccer business.
David Zabel, cultural creator at Randfilm and Streetbolzer e.V., will guide through the teams and matches, giving insights into the backroom rules of the game.
Program
7.30 pm Doors Open
8 pm Welcome by David Zabel; Presentation of players with the Panini Game
9 pm Semi final 1, First half with FUSSBALLABALLA Bingo
9.45 Break and Screening
"Meine Beschneidung", documentary short, 17 min, by Arne Ahrens
The documentary is a German-Turkish search for identity by means of the nine-year old Ümit's story. The film shows how quickly 2000 kilometres can shrink to just a few centimetres until there is no evasion in the search for one's own identity.
10 pm Semi final 2, Second half with FUSSBALLABALLA Bingo
Registration
Free admission, no prior registration required.
Address
Streetbolzer e.V., Nordstadt-Stadion
Struthbachweg 3
34127 Kassel
Note
The events take place under consideration of currently valid hygiene guidelines.
All dates
Quarter Final 1–2: Friday, July 2, 2021, 5–11 pm (CET)
Quarter Final 3–4: Saturday, July 3, 2021, 5–11 pm (CET)
Semi Final 1: Tuesday, July 6, 2021, 7.30-11 pm (CET)
Semi Final 2: Wednesday, July 7, 2021, 7.30-11 pm (CET)
Final: Sunday, July 11, 2021, 7.30-11 pm (CET)
Directions
Streetbolzer e.V.
Nordstadt-Stadion
Struthbachweg 3
34127 Kassel
Infos
Location: Streetbolzer e.V. Nordstadt-Stadion Struthbachweg 3 34127 Kassel