Event
FUSSBALLABALLA: Quarter Final 3–4
by ZK/U – Center for Art and Urbanistics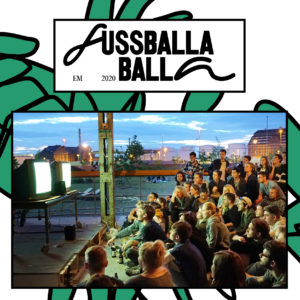 From July 2–11, 2021, ZK/U in Exile organizes FUSSBALLABALLA, a program around the postponed European Football Championship 2020. As a non-commercial public screening format for the neighborhood, FUSSBALLABALLA shows football matches in alternative settings in Kassel, accompanied by a critical and discursive program before, during, and after the matches. Apart from the fun of the game, FUSSBALLABALLA screens films and hosts conversations and performances questioning the idea of how groups find their face and space within dominant narratives of the football world.
As lumbung member of documenta fifteen, ZK/U – Zentrum für Kunst und Urbanistik is moving its activities to Kassel during the expansion of its Berlin space. FUSSBALLABALLA takes place in collaboration with documenta fifteen and Kassel initiatives Dynamo Windrad e.V. and Streetbolzer e.V.
Collectivity wins
Every now and then nations without individual stars win the tournament. They are then called 'team' and the collective effort is emphasized. The individual bodies of the players become part of a collective body. Collectivity has a high reputation in sports. But does the collective effort of horizontal communities outside the game get the recognition it deserves? Day two of FUSSBALLABALLA takes to the streets and through the narratives of today's host Streetbolzer e.V., we tell stories of collective resistance and gaining recognition against all odds.
Program
5 pm Doors Open
5.30 pm Welcome by Streetbolzer and ZK/U
6 pm Quarter Final 3 round 1
6.45 pm Break
"A Copa dos Refugiados", documentary, 13 min, by Luciano Pérez Fernández
At a football tournament for refugees in São Paulo, people from all over the world meet and talk about their lives in Brazil's largest metropolis.
7 pm Quarter Final 3 round 2
7.45 pm Break
"Baba Yao", documentary short, 34 min, by Sebastián Gil Miranda
Austin is a Kenyan football coach living in Mathare, one of the biggest slums in Nairobi. He started picking up the garbage bit by bit on a dumpsite in his community. Every night people from neighboring communities would leave their garbage there, and he would have to start clearing it again. Austin keeps on removing the garbage, winning inch by inch, meter by meter, to make a level playing field for children.
9 pm Quarter Final 4 round 1
9.45 pm Break
"Vakhegula Vakhegula. Alive & Kicking: The soccer grannies of South Africa", documentary, 19 min, by Lara-Ann de Wet
A group of South African grandmothers aged 55-84 are breaking all taboos as they take up the game of football to live an active, healthy and fulfilling lifestyle. Dealing with their own stories of abuse, poverty and neglect these women come together on the football pitch for their weekly dose of therapy—both emotional and physical and to celebrate being alive.
10 pm Quarter Final 4 round 2
Registration
Free admission, no prior registration required.
Address
Streetbolzer e.V.
Gottschalkstraße/Mombachstraße
34127 Kassel
Note
The events take place under consideration of currently valid hygiene guidelines.
All dates
Quarter Final 1–2: Friday, July 2, 2021, 5–11 pm (CET)
Quarter Final 3–4: Saturday, July 3, 2021, 5–11 pm (CET)
Semi Final 1: Tuesday, July 6, 2021, 7.30-11 pm (CET)
Semi Final 2: Wednesday, July 7, 2021, 7.30-11 pm (CET)
Final: Sunday, July 11, 2021, 7.30-11 pm (CET)