Event
FUSSBALLABALLA: Quarter Final 1–2
by ZK/U – Center for Art and Urbanistics
Location: Dynamo Windrad e.V., Windpark Jahn
Mittelfeldstraße 29a
34127 Kassel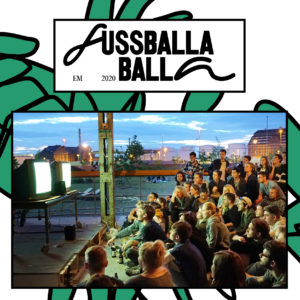 From July 2–11, 2021, ZK/U in Exile organizes FUSSBALLABALLA, a program around the postponed European Football Championship 2020. As a non-commercial public screening format for the neighborhood, FUSSBALLABALLA shows football matches in alternative settings in Kassel, accompanied by a critical and discursive program before, during, and after the matches. Apart from the fun of the game, FUSSBALLABALLA screens films and hosts conversations and performances questioning the idea of how groups find their face and space within dominant narratives of the football world.
As lumbung member of documenta fifteen, ZK/U – Zentrum für Kunst und Urbanistik is moving its activities to Kassel during the expansion of its Berlin space. FUSSBALLABALLA takes place in collaboration with documenta fifteen and Kassel initiatives Dynamo Windrad e.V. and Streetbolzer e.V.
Queer Narratives
Where and how are the queer community's interpretations of football reflected during the games? There are publicly queer ministers, and public representation in all fields of society is improving, but not a single active male football player has come out. At Dynamo Windrad, we inflate the rainbow and watch the narratives of queer fans, players, and professionals.
Program
5 pm Doors Open
5.30 pm Welcome by Dynamo Windrad and ZK/U
6 pm Quarter Final 1 round 1
6.45 pm Break
"I love hooligans", Animation, 13 min, by Jan-Dirk Bouw
A football hooligan feels unconditional love for his club. However, being gay, he has to hide his identity in order to survive in this world that is so precious to him.
7 pm Quarter Final 1 round 2
7.45 pm Break
"Zwei Gesichter", short film, 24 min, by Christian Schäfer
Jonathan is an eighteen-year-old U19- Bundesliga player with a girlfriend and a secret life. He needs to make a decision about his career and his love interest.
9 pm Quarter Final 2 round 1
9.45 pm Break
"Hate for sale", short animation, 2:40 min, by Anna Eijsbouts
An original poem by Neil Gaiman, narrated by Peter Kenny followed by a search for 'coming out' anthems
10 pm Quarter Final 2 round 2
Registration
Free admission, no prior registration required.
Address
Dynamo Windrad e.V., Windpark Jahn
Mittelfeldstraße 29a
34127 Kassel
Note
The events take place under consideration of currently valid hygiene guidelines.
All dates
Quarter Final 1–2: Friday, July 2, 2021, 5–11 pm (CET)
Quarter Final 3–4: Saturday, July 3, 2021, 5–11 pm (CET)
Semi Final 1: Tuesday, July 6, 2021, 7.30-11 pm (CET)
Semi Final 2: Wednesday, July 7, 2021, 7.30-11 pm (CET)
Final: Sunday, July 11, 2021, 7.30-11 pm (CET)
Directions
Dynamo Windrad e.V., Windpark Jahn
Mittelfeldstraße 29a
34127 Kassel
Infos
Location: Dynamo Windrad e.V., Windpark Jahn
Mittelfeldstraße 29a
34127 Kassel