Event
FUSSBALLABALLA: Final
by ZK/U – Center for Art and Urbanistics
Location: ruruHaus, Obere Königsstraße 43, 34117 Kassel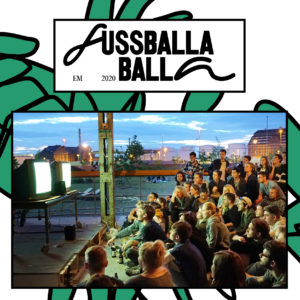 From July 2–11, 2021, ZK/U in Exile organizes FUSSBALLABALLA, a program around the postponed European Football Championship 2020. As a non-commercial public screening format for the neighborhood, FUSSBALLABALLA shows football matches in alternative settings in Kassel, accompanied by a critical and discursive program before, during, and after the matches. Apart from the fun of the game, FUSSBALLABALLA screens films and hosts conversations and performances questioning the idea of how groups find their face and space within dominant narratives of the football world.
As lumbung member of documenta fifteen, ZK/U – Zentrum für Kunst und Urbanistik is moving its activities to Kassel during the expansion of its Berlin space. FUSSBALLABALLA takes place in collaboration with documenta fifteen and Kassel initiatives Dynamo Windrad e.V. and Streetbolzer e.V.
Grand drag karaoke
Every tournament needs a grand finale with impressive singing. While UEFA prefers Andrea Bocelli and other mainstream superstars, we prefer the superstar next door, or rather the star in you! Join us for grand drag karaoke, where we'll sing the anthems of horizontal communities from around the world while dressed up in proper drag style! Or to play freely with the words of Joan Armatrading: "Put on your red heels, stockings, and shoes; put lipstick and rouge on your face, pile your hair high, dance with a red umbrella, and carry your head in the sky. Yeah Joan! Let's do that to the boys. Come on so willing. Come on so strong!" Or to quote RuPaul: "We're all born naked and the rest is drag!"
Program
7 pm Doors open
7.30 pm Welcome by ZK/U
8 pm Screening
"The men who speak Gayle", Short documentary, 13 min
Entertainer Nathan Kennedy, who speaks Gayle, a secret language created by the gay community during Apartheid South Africa, meets Louis van Brakel, a much older speaker of Gayle, and interviews him on stage at the Showroom Theatre.
9 pm Final, First half
9.45 pm Performance by Jessie and invitation to "dress up/coming out/anti-nationalism karaoke" 
10 pm Final, second half
10.45 pm Karaoke
Registration
Free admission, no prior registration required.
COVID-19 Notice
To participate in the event, we ask you to present a negative PCR test or antigen rapid test (no self-tests), which is not older than 24 hours. Alternatively, a convalescence certificate or positive PCR test, which is at least 28 days and at most 6 months old, or a full vaccination protection according to the vaccination certificate (date of the second vaccination plus 15 days) is valid.
The event takes place under consideration of currently valid hygiene guidelines. There is an obligation to cover the mouth and nose in the entire indoor area. The data of the visitors will be recorded in order to trace a possible chain of infection. The data protection regulation applies.
Address
ruruHaus
Obere Königsstraße 43
34117 Kassel
All dates
Quarter Final 1–2: Friday, July 2, 2021, 5–11 pm (CET)
Quarter Final 3–4: Saturday, July 3, 2021, 5–11 pm (CET)
Semi Final 1: Tuesday, July 6, 2021, 7.30-11 pm (CET)
Semi Final 2: Wednesday, July 7, 2021, 7.30-11 pm (CET)
Final: Sunday, July 11, 2021, 7.30-11 pm (CET)
Directions
ruruHaus, Obere Königsstraße 43, 34117 Kassel
Infos
Location: ruruHaus, Obere Königsstraße 43, 34117 Kassel