Event
Another World is Plantable – Film Screening
by MADEYOULOOK
Location: ForstFeldGarten, located behind Steinigkstraße 21-23, 34123 Kassel, Germany
Ticket: Free Entry
Attendees: 30
Languages: English, German, Spanish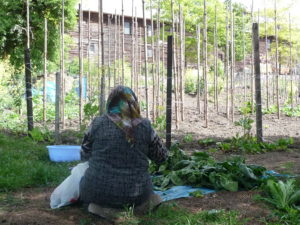 In collaboration with Essbare Stadt e.V. and on the occasion of the 10th anniversary of ForstFeldGarten, the lumbung artists MADEYOULOOK are hosting a film screening in Kassel, Germany.
A series of short videos created with autonomous communities in Mexico will be shown, followed by a discussion round. The evening will be ended with a screening of Ella von der Haide's documentary series Another World is Plantable! about urban community gardens and their connections to emancipatory social movements in various contexts.
ForstFeldGarten is a project of Essbare Stadt e.V..
Details
Location: ForstFeldGarten
ForstFeldGarten doesn't have its own address. The garden is located behind Steinigkstraße 21-23, 34123 Kassel, Germany.
Max. Participants: 30 people
Language
The event and the discussion round take place in English and German.
The short films will be in Spanish with English subtitles.
The documentary film will be in German with English subtitles.
Covid-19 Note
The event takes place under consideration of currently valid hygiene guidelines.
Directions
ForstFeldGarten, located behind Steinigkstraße 21-23, 34123 Kassel, Germany
Infos
Location: ForstFeldGarten, located behind Steinigkstraße 21-23, 34123 Kassel, Germany
Attendees: 30
Languages: English, German, Spanish

Ticket: Free Entry