Event
FUSSBALLABALLA: Semi Final 2
by ZK/U – Center for Art and Urbanistics
Location: Dynamo Windrad e.V., Windpark Jahn
Mittelfeldstraße 29a
34127 Kassel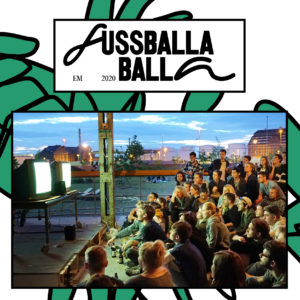 From July 2–11, 2021, ZK/U in Exile organizes FUSSBALLABALLA, a program around the postponed European Football Championship 2020. As a non-commercial public screening format for the neighborhood, FUSSBALLABALLA shows football matches in alternative settings in Kassel, accompanied by a critical and discursive program before, during, and after the matches. Apart from the fun of the game, FUSSBALLABALLA screens films and hosts conversations and performances questioning the idea of how groups find their face and space within dominant narratives of the football world.
As lumbung member of documenta fifteen, ZK/U – Zentrum für Kunst und Urbanistik is moving its activities to Kassel during the expansion of its Berlin space. FUSSBALLABALLA takes place in collaboration with documenta fifteen and Kassel initiatives Dynamo Windrad e.V. and Streetbolzer e.V.
Fire from within
Whenever football fans or players move into the field of political activism, the terrain gets rough, there are traps, and the view is foggy (no bengalos involved). FIFA and UEFA try to keep politics out of the big tournaments, as was the case most recently in Munich when UEFA blocked the use of rainbow lighting at the Allianz Arena. But can a public gathering of people, as players and fans, be entirely apolitical? Does football only unite for the sake of football?
When Dynamo Windrad Kassel was founded in 1982, they just wanted to play football, without too much ambition and recognition, and with fun as the leading principle. Their name, hinting toward GDR team names, positions them as a little left and a little alternative, which was enough for their club name to be banned, followed by court rulings, revisions, and nationwide press coverage. They emerged from the conflict even stronger and are still fighting for fairness in football.
German satirist Thomas Gsella talks us through the game and activism.
Program
7.30 pm Doors open
8 pm Screening
Extracts from "Sonntag Morgen Linien Ziehen", documentary film, 15 min, by Max Winkler
8.30 pm Welcome by Dynamo Windrad e.V. with Thomas Gsella
9 pm Semi-final 2, First half
9.45 pm Break + Screening
Istanbul United clips, 15 min, by Farid Eslam, Olivier Waldhauer
For years fans of the three main football clubs in Istanbul (Besiktas, Fenerbahce and Galatasaray) have been known for their mutual rivalry and hatred, often resulting in extremely violent clashes, with countless injuries and even deaths. In 2013, when Turkey was shaken by nationwide protests and ordinary citizens made a stand against the police, something remarkable happened: for the first time ever fans of all 3 clubs united and fought for a common cause.
10 pm Semi-final 2, Second half
Bengalo Showdown
Registration
Free admission, no prior registration required.
Address
Dynamo Windrad e.V., Windpark Jahn
Mittelfeldstraße 29a
34127 Kassel
Note
The event takes place under consideration of currently valid hygiene guidelines.
All dates
Quarter Final 1–2: Friday, July 2, 2021, 5–11 pm (CET)
Quarter Final 3–4: Saturday, July 3, 2021, 5–11 pm (CET)
Semi Final 1: Tuesday, July 6, 2021, 7.30-11 pm (CET)
Semi Final 2: Wednesday, July 7, 2021, 7.30-11 pm (CET)
Final: Sunday, July 11, 2021, 7.30-11 pm (CET)
Directions
Dynamo Windrad e.V., Windpark Jahn
Mittelfeldstraße 29a
34127 Kassel
Infos
Location: Dynamo Windrad e.V., Windpark Jahn
Mittelfeldstraße 29a
34127 Kassel