Event
38. Kasseler Dokfest: Special Exhibition Débordements / Überläufe
Location: ruruHaus, Obere Königsstraße 43, 34117 Kassel Entrance via Treppenstraße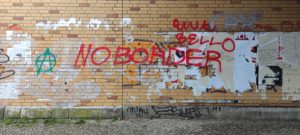 For the second time, documenta fifteen is collaborating with the 38. Kasseler Dokfest, which will take place on-site from November 16­–21, 2021, and online until November 26. Together with the Kassel Documentary Film and Video Festival, documenta fifteen hosts a selection of projects.
Special Exhibition Débordements / Überläufe
A collaborative project created by students of École Supérieure d'Art Pays Basque (Bayonne-Biarritz, France) and the class of Film and Moving Image of Kunsthochschule Kassel. Their goal was to reflect on the concept of borders. A point of departure for their thinking was the ever present friction in the history of territories and topographies, in historical and contemporary narratives of Europe, between atlases and landscapes, centers and peripheries, across borders and their transgression, as well as in translations between different languages. They explored political, geographical and linguistic borders, but also our experience of borders as sensory, psychological, ontological and – above all – malleable. The collaborators took into consideration how borders define and at the same time separate us, but also investigated spaces of disconnection, zones of contact, frontlines and places of passage.
All events of the 38. Kasseler Dokfest and further information can be found here.
Opening
November 17, 2021: 9 pm, Introduction by Anna Berger, Sara Millot and Jan Peters
Opening hours
Wednesday, November 17, 2021: 9–11 pm
Thursday, November 18, 2021: 3–9 pm
Friday, November  19, 2021: 3–9 pm
Saturday, November 20, 2021: 3–9 pm
Sunday, November 21, 2021: 3–8 pm
COVID-19 notice
The "3G+" guideline applies to all Dokfest film screenings and supporting programs. Please come prepared with your proof of status as:
Vaccinated (Geimpft) with proof of complete vaccination
Recovered (Genesen) with proof of a full recovery (maximum 6 months ago)
Tested (Getestet) with an official negative test (PCR test not older than 48h)
Additionally, the festival requests that the following measures be observed at all film screenings and social programs:
Compulsory masks – medical mask until you take your seat at the cinema
Distancing – at least 1.5m distance
Hygiene – regular hand washing and disinfection
See more information here.
Directions
ruruHaus, Obere Königsstraße 43, 34117 Kassel
Entrance via Treppenstraße
Infos
Location: ruruHaus, Obere Königsstraße 43, 34117 Kassel Entrance via Treppenstraße