Event
Lecture Series on Arts, Cultures, Policies & Educational Practices #3
Location: Online via Zoom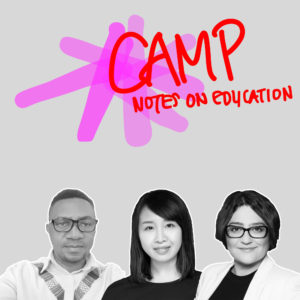 From September 2021 to February 2022, CAMP notes on education is running a series of lectures on Arts, Cultures, Policies, and Educational Practices. In nine online sessions, internationally renowned experts at the interface of Arts, Cultural Policy and Education will present their concepts and approaches. They will be talking about their research within their particular contexts. Through dialogue and knowledge-sharing, participants will have an opportunity to reflect on their own concepts, methods and practical experiences in the context of the upcoming documenta fifteen.
The curatorial approach of the artists' collective ruangrupa is to locate art in people's everyday lives and, with documenta fifteen, create a place for shared knowledge production. In line with this concept, the lecture series and its speakers will ask questions about the free and institutionalised spheres of arts and education. CAMP notes on education initiates a dialogue on the social and political factors that influence the emergence of artistic practice.
The series is organized in collaboration with the University of Hildesheim and the Academy of Fine Arts in Munich. The lectures will be moderated by students and held in English due to the presence of international speakers.
CAMP notes on education
CAMP notes on education is a glocal* network of teachers and learners in the fields of arts, arts history, aesthetics, cultural policy and arts education. CAMP uses the practice of lumbung as an opportunity to place the question of contemporary Arts Education in networked and global contexts. For example, what role does it play in relation to artistic and curatorial actors? How does it position itself in the current cultural policy discourse?
The contemporary practice of Arts Education needs new responses to translocal teaching and learning contexts. documenta fifteen should provide a framework for instigating structural change in these areas. lumbung allows CAMP participants to learn about new parameters for horizontal decision-making processes and resource allocation. In the coming weeks and months, CAMP will be working with a growing number of cooperation partners and networks to translate these values, rituals and organizational principles. It will be questioning the foundations and practices of Arts Mediation and looking for ways to learn in and from collectives.
With this focus, CAMP notes on education is constantly growing and opening up spaces for collective and project-based learning.
More information on CAMP notes on education can be found here.
*glocal = global-local
Thursday, October 28, 2021: Postcolonialism and Arts Education / Nonprofit-Organisations and sustainable regional development / The Belt and Road Initiative
Lecture 1: Postcolonialism and Arts Education: African Perspectives
Speaker: Prof. Dr. Samuel Ravengai
Arts education in Africa took a single Eurocentric perspective while alternative ways of knowing and artistic practice were side-lined if not ridiculed. In his lecture, Samuel Ravengai makes the point that each knowledge regime, albeit its deep embeddedness in institutional life, is contested within its own period by exploring African resistance to western artistic practice. Although the colonial knowledge regime leaves its traces in artistic practice, he makes the point that eventually it falls to a successor regime and in the case of artistic practice, to the emerging Afroscenology discourse. With regards to the latter, this lecture will discuss practical ways in which African ways of knowing and artistic practice have been and are being foregrounded in arts education and culture.
Samuel Ravengai is Associate Professor of Theatre and Performance at the University of the Witwatersrand, in Johannesburg, South Africa. He is particularly interested in the interconnection of race, nation, empire, migration and ethnicity with cultural production. Samuel Ravengai is a postcolonial/decolonial scholar who propounded a new theory, Afroscenology, which seeks to suggest ways in which theatre can be documented, theorised and decolonised.
Lecture 2: Nonprofit-Organisations and sustainable regional development on the example of the Bulgarian 'Chitalishte'
Speaker: Prof. Dr. Milena Valeva
This lecture introduces 'chitalishte', an alternative cultural institution which is historically anchored in Bulgaria. Although "chitalishte" is primarily state-funded institution, it does not refer to typical high culture institutions in Western Europe like theaters and museums. 'Chitalishte' has to be understood as a 'cultural ecosystem', aiming at socio-cultural and regional sustainability. It enables horizontal networking and stands for tradition as well as for innovation.
Milena Valeva is a multi-lingual professor in nonprofit management and sustainable regional development at Trier University of Applied Sciences. She is a founding member of the NGO Odyssey, a nonprofit organization for regional development in Bulgaria, and she is an expert group member of the Education4Justice Initiative on Integrity and Ethics Modules for Higher Education at the United Nations Office on Drugs and Crimes. Milena Valeva also publishes in the field of sustainable development, social innovation and ethical banking.
Lecture 3: The Belt and Road Initiative: Contemporary Cultural Projects in China
Speaker: Yongfei Du
For the Chinese Communist Party (CCP), cultures are the most important factors that impact economic growth, international trade, marketing, finance and politics. In a new era of governance, the Belt and Road Initiative (BR Initiative) was developed in 2013. For the CCP, cultures are the most important factors that impact economic growth, international trade, marketing, finance and politics. In this lecture, I will not only discuss the cultural values of the Chinese BR Initiative and the actual cultural projects within this foreign policy strategy but also address the questions 'What is the central idea of Chinese cultural policy?' and 'What role does UNESCO play?'
Yongfei Du is an enthnomusicologist, working as a researcher and teacher at various German universities, currently Hildesheim and Hanover. Her main research interests include cultural heritage protection for Chinese music, music in the Chinese diaspora in Germany as well as the transition and hybridity processes of different Chinese music genres. Yongfei Du also founded the Chinese Children's Choir in Berlin and has organized many international musical activities for Chinese and German universities.
Moderators
Michèle Brand and Prof. Dr. Julius Heinicke
This event will take place as part of the panel Variety of Narratives in (Inter)national Cultural Policy: A Comparison between Different Regions at a symposium of the University of Hildesheim. The lectures will be followed by a discussion on the opportunities and challenges for international organisations in negotiating different narratives explored in the previous presentations.
More information can be found on the website of CAMP notes on education.
Livestream
Thursday, October 28, 2021 at 11.30—1.30 pm (CET) via Zoom.
Password: 197064
Everyone is invited to join in the discussion.
The lecture series will be broadcast live on the CAMP notes on education website and all sessions will be available there after the event.
Please note: the events will be filmed and archived. For more information on taking part, please see the Terms of Use, Privacy Policy, and Community Agreement of CAMP notes on education.
Language
Due to the international speakers all lectures will be held in English.
All lecture dates
Thursday, September 30, 2021
Speaker: Antje Budde
Thursday, October 14, 2021
Speakers: Emily Akuno & Mary Clare Kidenda
Thursday, October 28, 2021
Speakers: Samuel Ravengai, Milena Valeva & Yongfei Du
Thursday, November 25, 2021
Speakers: Patrique deGraft-Yankson & Osuanyi Quaicoo Essel
Thursday, December 9, 2021
Speaker: Meriam Bousselmi
Thursday, January 20, 2022
Speakers: Charlene Rajendran & Chee-Hoo Lum
Thursday, January 27, 2022
Speaker: Timo Jokela
Thursday, February 10, 2022
Speaker: Avi Sooful
Thursday, February 17, 2022
Speakers: Pepetual Mforbe & Paul Henri Souvenir Assako Assako
Infos
Location: Online via Zoom